BS Lee's Foreplay Preamp
Yeah, folks. Let my friend, BS Lee, here temp you with some "foreplay" before he presents his serious stuff later... he he he...
Yeo,

Not sure if you're interested to publish this on your website although it's not the 5687, as others have done..but anyway..here goes.

Attached herewith are some pics of the final up & running Foreplay preamp. The amp consists of the main stuff listed below.
1 pc Ultron gold pin 6CA4/EZ81 rectifier tube
2 pcs JJ ECC82
3 Custom specified local tranny: 135-0-135V, 3.15 - 0 - 3.15V, 6.3 - 0 - 6.3V windings.
4. Resistors are Welwyn 1% metal films in main circuitry.
5. Short length Pasar Rd interconnects used for signal path interfacing.
6. Solen MKP 1uF coupling caps
7. 23step attenuator 100K c/w Philips MRS resistors.
8. Vintage Mcmurdo 9pin tube sockets.
9. Chassis is 16g GI steel fabricated to custom design.

Possible Upgrade path:
1. Better quality or PIO coupling caps.
2. 3 different coupling caps selectable via switch.
3. Goldpoint or DACT attenuator
4. Hammond mains tranny.
5. Holco or Vishay/Dale resistors.

The Foreplay core circuit is not different from the original Bottlehead design except for an over specified transformer, tube rectification circuit, 23step attenuator, smaller value signal coupling cap and some minor tweaks embedded within the circuit to suit my personal preferences.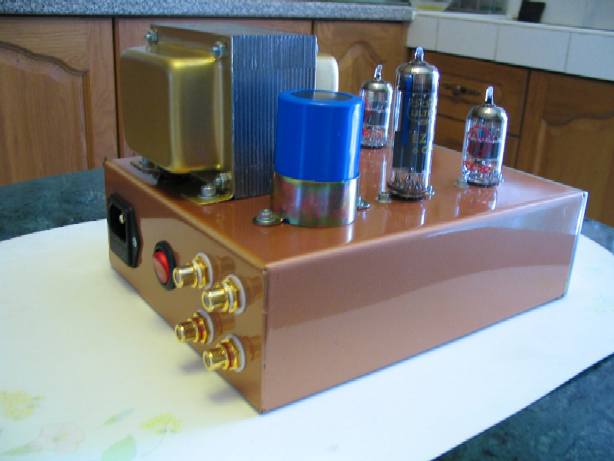 On initial use with RCA clear top 12AU7A and minimum value of coupling cap, (because that's only what I have in hand - Russian Military MKP 0.1uF.) it does not perform to my personal expectation in terms of correct bass weight, some muddy bass lines, questionable depth and uncertain sound staging, and edgy, just to name a few. The character and massive signal gain of the Foreplay is quite apparent it appeared un-involving and not entirely musical.
Now comes the JJ tubes, loaned from a fellow Klanner plus a pair of Solen 1uF MKP's. In it goes and after half hour of warm-up, the music now comes together with correct the correct thickness, weight and fullness in the bass department. Bass now sounds right as far as this pre-amp is concerned. Music is now smoothen out by some noticeable which to me is acceptable. Digital edginess is almost gone and more analog in character.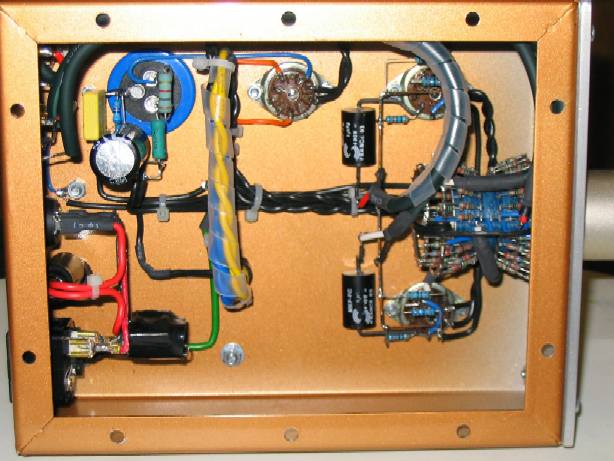 Any further shortcoming in this area would be blamed on the rest of the chain, mainly the Power amps insufficient to drive the speakers to potential. As the hours trod on, playing anything from Norah Jones, Teresa Teng, to some Telarc's Eric Kunzel and various personal test tracks, I seem to be quite satisfied at my personal achievement. I think I'll stick to the JJ tubes which again, amazes me with sonics that I enjoy in the wee hours of the night.
For now, I think I've achieved what I want in this Pre-amp, in line with the budget that my pocket could stretch. Next week, will be tinkering on 2 sets of DIY Leak TL25+ monoblocks...long, long overdue for construction.