NOS PICS (not to be confused with `nose picks')
Aha! Family portrait! Left to right. Tungsol 5687, RCA 5687, Raytheon 5687, GE JAN 7044 and Sylvania 7044.
Late for pics: GE 5 Star, Sylvania Gold Brand.

Misc NOS tubes. Amperex Bugle Boy 6GM8, GE 5 star 5687, GE 6414 and GE JAN 5751.

Last 2 pieces of Amperex Gold Pin 6922. US production.

Misc 6X4 tubes. Sylvania, RCA and GE.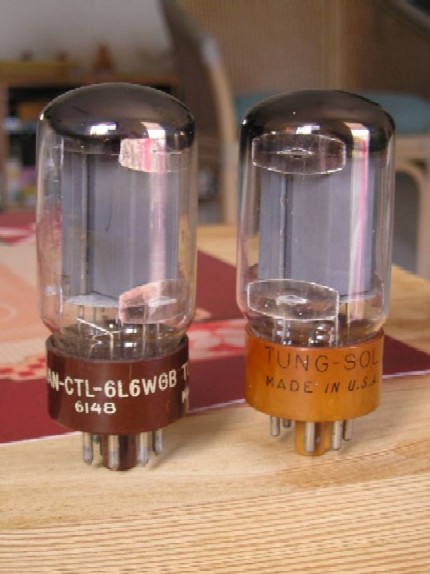 Cream la cream! Tungsol 5881 - The Real Deal. I have 4 pieces left of these beauties. Too bad there's only 1 piece of clear base.

OK, nothing to do with NOS PICS. But this is system view as of late Nov '03.
On floor, left to right, friend's KT88 PP amp, prototype CDPRO2, Etude "12B4A" preamp. And "ear-candy, comfort food".
On rack, Marantz CD63SE (looking on sadly), Simple EL84.
Top of rack, 14" TV when we are interested in tragedies around the world.
Flanked by fearsome-looking-but-musical-sounding Hammer Dynamics with sweet-like-hell Fostex super tweeter.